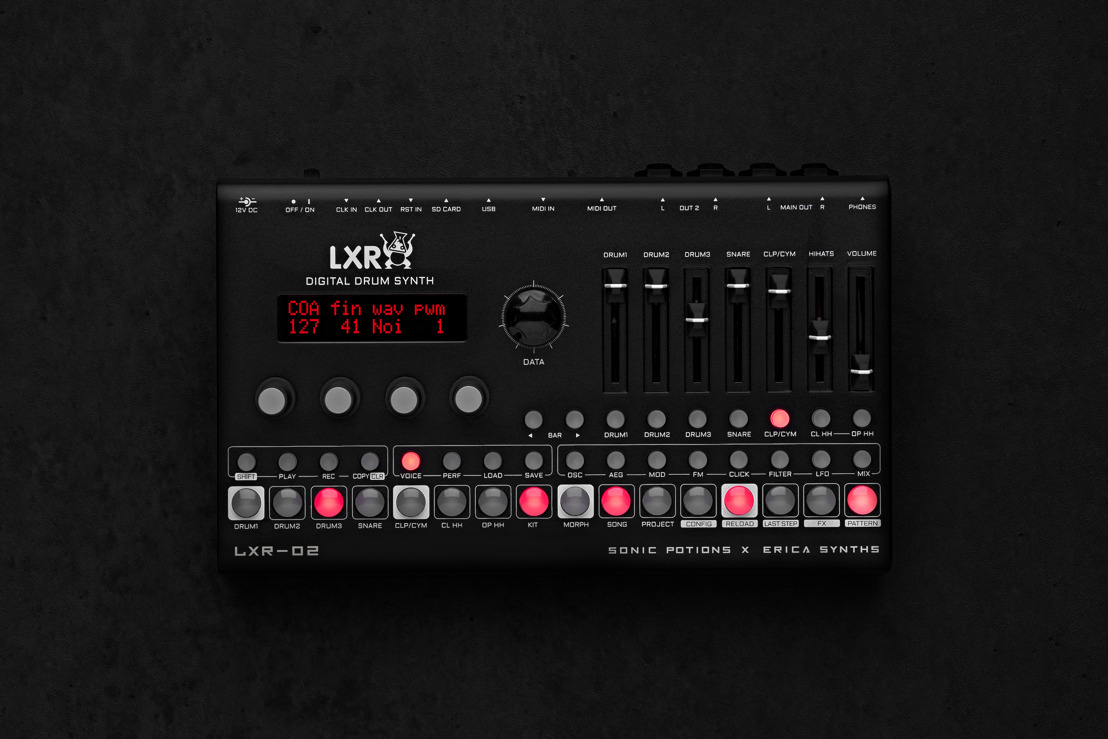 Announcing Erica Synths x Sonic PotionsDrum Synthesizer LXR-02
LXR-02 is the result of a joint effort between Sonic Potions and Erica Synths
Riga, Latvia, July 5, 2021 — Two companies — Sonic Potions and Erica Synths — ​ joined efforts to develop a drum machine that would stand apart from the masses and the LXR-02 was born. The LXR is a fully-fledged digital drum machine with an integrated sequencer. Its sound engine provides six different instruments, each with over 30 parameters to tweak, producing sounds from classic analogue emulations to crunchy digital mayhem, thus offering some of the most extensive sound design capabilities found on a drum synthesizer. Its compact, durable design and clear user interface make it ideal for live gigs.
In addition to six different drum voices and over 30 adjustable parameters per voice, LXR-02 also features volume sliders for each voice, an insert FX section, four assignable outputs and an extensive MIDI implementation.
Features:
6 drum voices

Powerful sound design engine

Over 30 adjustable parameters per voice

Voice volume sliders

Insert FX section

4 assignable 6,3" jack outputs (2x stereo or 4x mono)

Full-size MIDI in/out

Flexible, performance-oriented 64 step sequencer

Performance mode with mutes, rolls, master bit-crush, and kit morphing

Kit, Pattern, Performance, and Song memory

SD card for easy FW updates and Project backup

USB MIDI

Headphone output

Extensive MIDI implementation

Durable and compact aluminum casing
LXR-02 is shipping now and priced at €490 EUR and $599 USD. For more information, please visit the Erica Synths online shop.
About Erica Synths
​Erica Synths team of visionaries, engineers and musicians have been working hard to bring you modules and instruments that will set your modular system apart from mass in terms of how it sounds, looks and functions.
Jeff Touzeau Public Relations, Hummingbird Media, Inc.