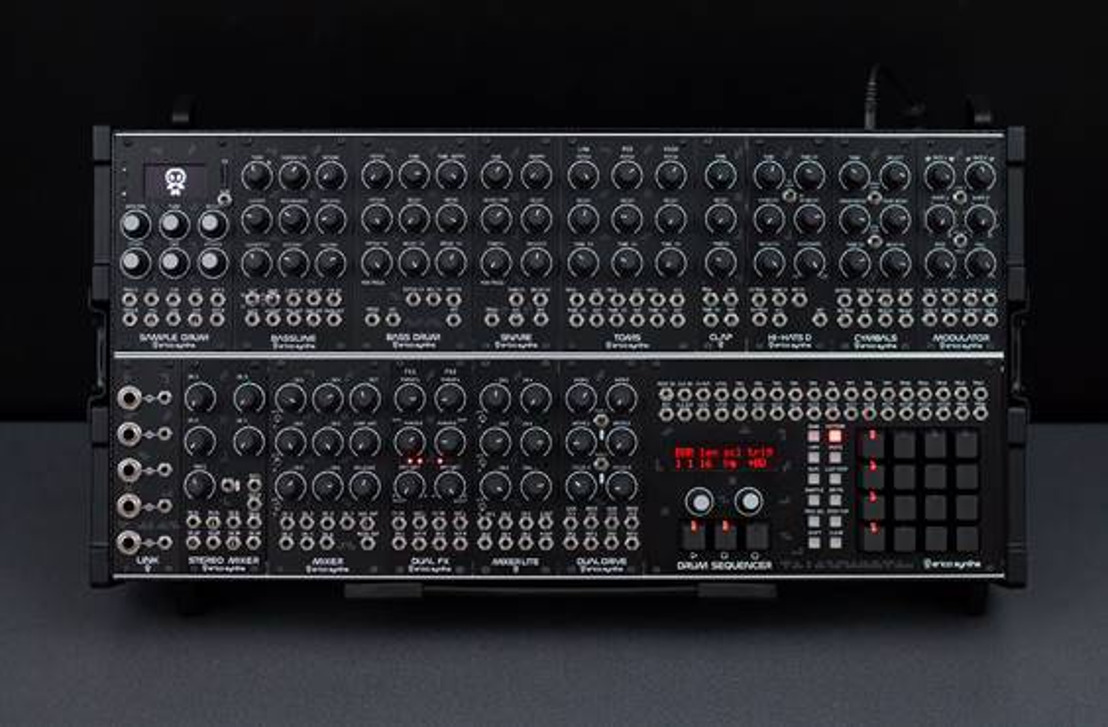 Erica Synths Announces Launch of Techno System
Erica Synths Releases Ultimate Tool for Rhythm Based Music Production
Tuesday, October 23, 2018 — Riga, Latvia — Erica Synths announced the release of its Techno System — the ultimate tool for rhythm-based music production, live performances and sound design. The drum modules on the Techno System are internally patched to the sequencer, so they are able to receive trigger and accent signals even without patching — allowing music creators to remain fully focus on the audio signal.
The new Techno System is the ultimate, flexible sonic tool and isn't limited to specific music genres — it is solely dependent on the user's creativity in patching and settings of modules and is almost limitless in its creative applications. Comprised of 15 modules altogether, it is one of the most advanced techno/industrial music performance instruments ever created.
Included in the Techno System is a set of new analogue drum modules, advanced drum/loop sampler, and a fat sounding fully analogue synth voice designed for screaming acid basslines. Further, the Techno System comes in Erica Synths Travel Case (universal PSU and case lid included, hand-made leather strap or backpack optional) and with 25 black patch cables.
Features
Bassline: fully analogue synth voice module for ultimate basslines and leads. It features AS3340 VCO with three waveforms, a filter inspired by Erica Synths Acidbox andunique features – transistor-based suboscillator and two BBDs that emulate VCO detune.


Bass Drum: takes classical drum machine kick drum sounds to the next level with a modular functionality - more parameters and CV control.


Snare Drum: 909 inspired sound with with modular functionality in mind – CV controls and Accents will add lot of expression to your performance


Toms: the module contains Low Tom, Mid Tom and High Tom, each with individual Pitch and Decay controls and outputs plus CV control over pitch.

Clap: brings classical drum machine sounds in eurorack. Accent and CV control over tune adds more versatility in sound.

Hi-Hats: classical Hi-Hats samples are passed thru AS3330 based VCA with adjustable shape and controlled via envelope generators of unique design. Extra feature is Open HiHat looping – when it's on, a certain part of the sample is looped while the envelope decay is on, thus creating distinct, delay-like effect.

Cymbals: distinct topology digital/analogue module, where cymbal samples are passed thru AS3330 based VCA and controlled via envelope generators of unique design. The module features 10 sets of custom Crash and Ride cymbal samples with Tune control and individual Decay control.

Modulator: features two identical syncable to the BPM LFOs/noise sources with selectable morphing waveshapes. LFO frequency can be manually adjusted or CV controled, as well as they provide frequency divisions and multiplications in Sync mode. Each LFO has two outputs — main one and secondary one with adjustable phase, so you can create evolving modulations

Drum Sequencer: this is the ultimate modular drum sequencer with 16x trigger outputs, 12x Accent outputs, 1x CV and Gate track and 2x Synced or free running LFO outputs.

Mixer Lite: this is compact 6 input version of a Drum Mixer. Built in vactrol based compressor settings can be adjusted to a taste via trimpots through the front panel.

Dual Drive: features two independent distortion circuits with gain and overdrive parameters, each with three overdrive flavours. Thanks to CV inputs, it is possible to create very lively distortion and great stereo effects.

Dual FX: this combines two Spin FV-1 chips in one module, each filled with eight custom effect programs with two adjustable and CV controlled parameters per effect and analogue dry/wet circuit. The effects repertoire of the Dual FX has been specially tailored to drum sounds and all parameter settings can be saved with the effect.

Drum Mixer: this is a compact, 7 input mixer of unique design provides greater dynamic range and built in vactrol based compressor for high clarity of each drum sound in the mix. The first three inputs have selectable allocation - to the Main output or Main output + Aux Send

Stereo Mixer: this comes equipped with four channel strips, each containing two inputs (L / R).Thanks to some clever routing options, mono signals can be placed nicely in the panorama as well. All four stereo channel strips feature a level potentiometer and a limiter provides protection against very hot signals.

LINK: the module that bridges eurorack to stage mixers — it has 5 sections that attenuate eurorack signals to line level signals and send them to 6,3mm jacks for quality connection to the performance mixer.

For More information, please visit www.ericasynths.lv

Jeff Touzeau Public Relations, Hummingbird Media, Inc.