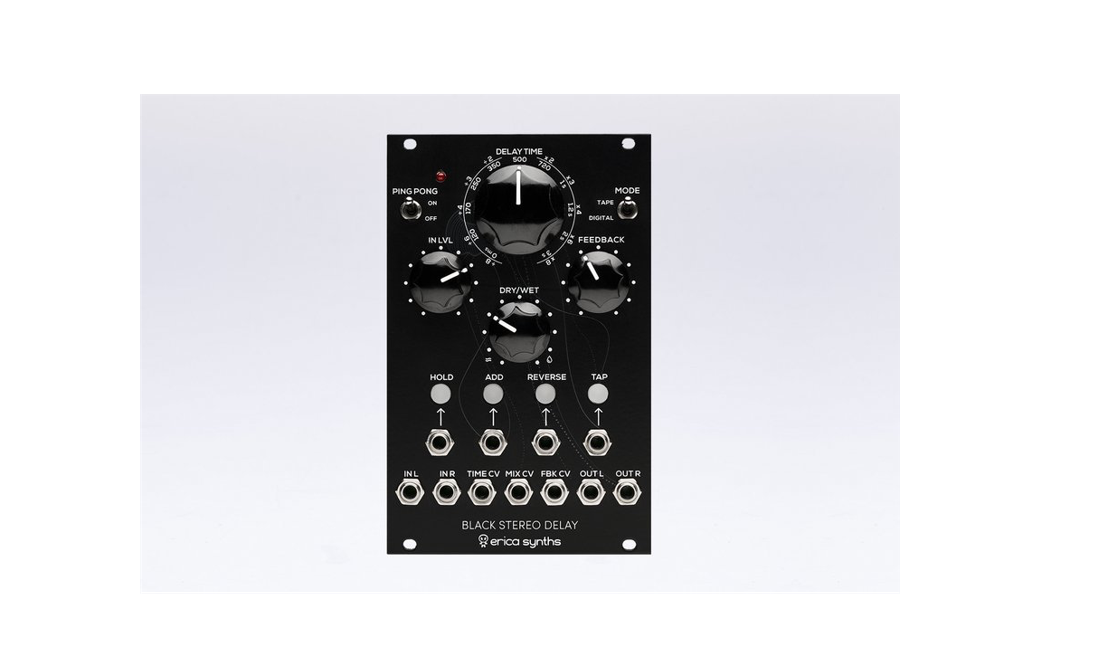 Erica Synths Black Stereo Delay Now Shipping
New Black Stereo Delay is full of unique features and sound
Riga, Latvia, June 13, 2019 — Tape and digital modes of delay, hold with overdub and delicate delay time and feedback control — in combination with CV and trigger control over various parameters — make the new Black Stereo Delay module from Erica Synths not only a great effects unit for your modular system, but also an instrument on it's own.
Black Stereo Delay is a hi-fi stereo delay based on Erica Synths' own custom DSP engine. It includes several different digital and ping-pong modes of delay, hold with overdub and feedback control and other features making it a versatile addition to almost any rack.
Black Stereo Delay's features include:
Stereo delay with adjustable delay time

Tape, digital and ping-pong delay modes

Tap and clock synchronization of delay time

Reverse delay mode

Hold mode (samples up to 40" of audio) with Add (overdub) feature

Trigger control over Hold, Add and Reverse

CV control over delay time, dry/wet mix and feedback

Feedback path soft limiting compression

Add to hold soft limiting compression

Adjustable stereo delay spread

Firmware update via audio bootloader
Black Stereo Delay is available now and priced at € 310.00. ​ For more information, please visit the Erica Synths Black Stereo Delay product page.
​
ABOUT ERICA SYNTHS
​Erica Synths team of visionaries, engineers and musicians have been working hard to bring you modules and instruments that will set your modular system apart from mass in terms of how it sounds, looks and functions.
Jeff Touzeau Public Relations, Hummingbird Media, Inc.