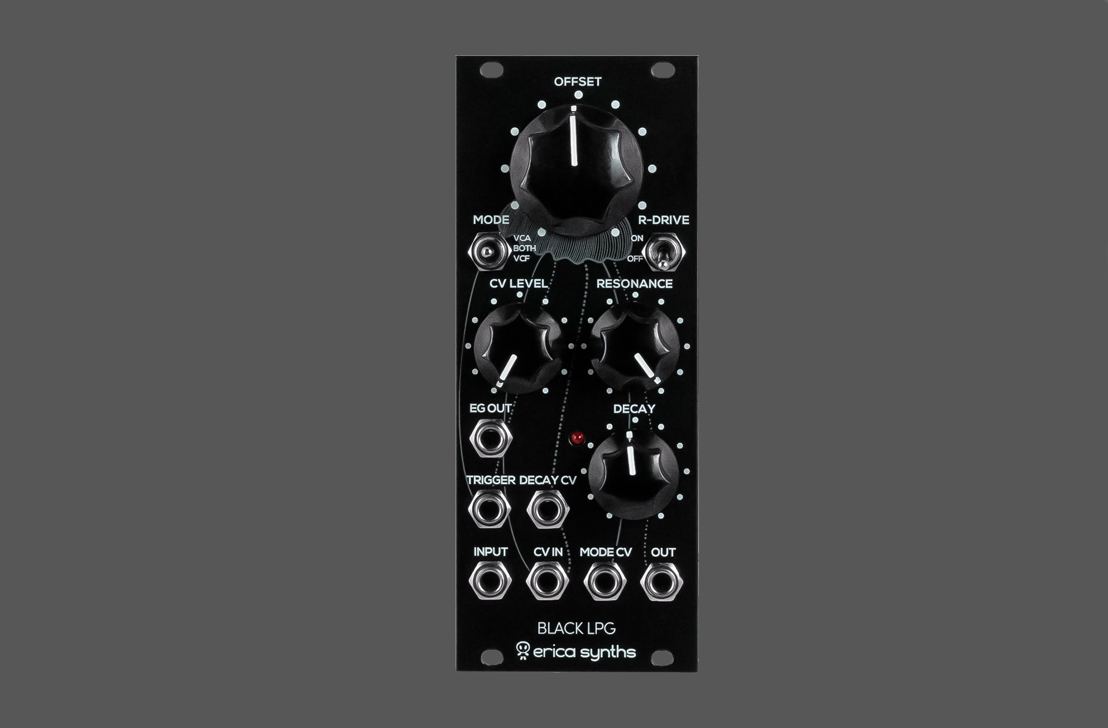 Erica Synths Introduces Black LPG
New module is extremely versatile, featuring 2nd order lowpass VCF
Riga, Latvia, December 21, 2020 — Erica Synths announces its Black LPG, the company's own take on the Lowpass Gate idea. An extremely versatile addition to any modular setup, the Black LPG is an ideal tool for wave shaping, beat refining, carving of low frequencies and many other applications.
The new Eurorack module has been designed from scratch and features a 2nd order lowpass VCF (the original Buchla lowpass gate was 1st order VCF) and VCA combo with a distinct resonance circuit on top. Other features include voltage control over VCF cutoff frequency/VCA offset and mode (VCF/VCF+VCA/VCA), as well as built in decay envelope generator — this makes it an extremely versatile tool for sound shaping!

​Features
Three vectors for 2nd order VCF

VCF/VCF+VCA/VCA modes

Manual and voltage controlled cutoff/offset

Manually and voltage controlled mode selection

Manually resonance depth control

Resonance overdrive switch

Built in decay envelope generator

Manually and voltage controlled decay time

Envelope CV output

Skiff-friendly design
​
The Black LPG is now shipping and priced at €170. For more information, please visit the Erica Synths product page.

​About Erica Synths
​Erica Synths team of visionaries, engineers and musicians have been working hard to bring you modules and instruments that will set your modular system apart from mass in terms of how it sounds, looks and functions.
Jeff Touzeau Public Relations, Hummingbird Media, Inc.