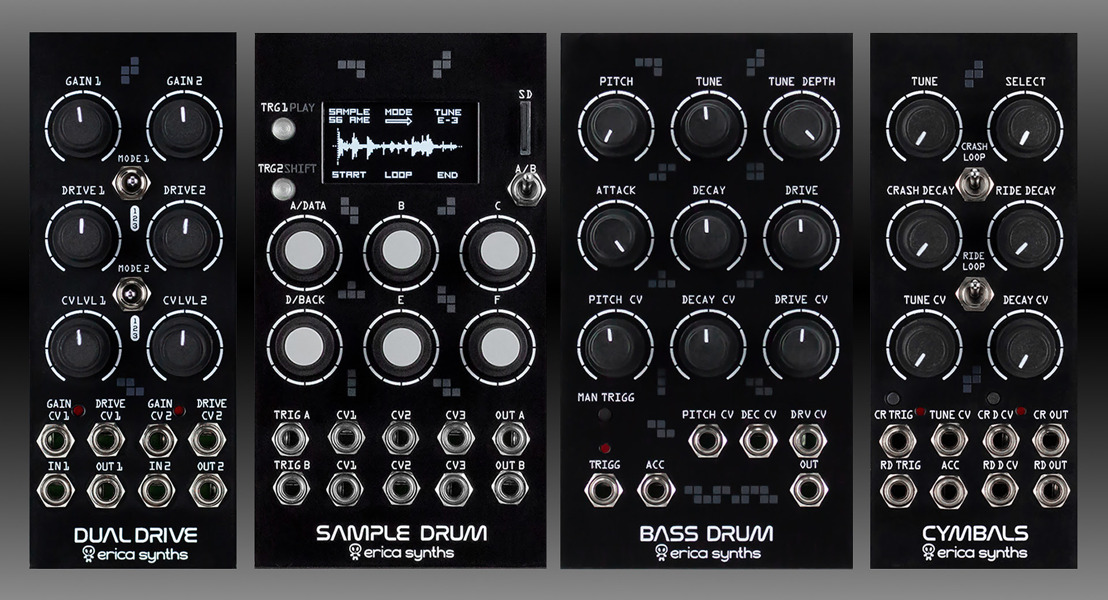 Holiday Treats from Erica Synths: 15% Off Drum Series Modules
Erica Synths Drum Series modules are the ultimate tools for rhythm based music production, live performances and sound design
Riga, Latvia, December 19th, 2019 — Modular synth innovators Erica Synths announced that its entire Drum Series modules will be on sale between Friday, December 20th and Tuesday, December 31st. ​ Customers can choose from among 18 different modules, including Sample Drum, Bass Drum, Snare Drum, Clap, Toms, Hi-Hats A, Hi-Hats D, Cymbals, Cowbell, Bassline, Dual Drive, Dual FX, Stereo Mixer, Mixer, Mixer Lite, Link, Modulator & Drum Sequencer.
Erica Synths Drum Series modules are the ultimate tools for rhythm based music production, live performances and sound design, and can accommodate anything your drum rack needs — from Bass Drum, Snare and Cowbell, to the Drum Sequencer, punchy Bassline and the extremely capable Sample Drum/ The Drum Series also provides expert effects, modulation, mixers and everything in between.
​
​For more information on the Drum Series and to take advantage of Erica Synths' Holiday Sale, please visit its online store starting tomorrow through December 31st.
ABOUT ERICA SYNTHS
​Erica Synths team of visionaries, engineers and musicians have been working hard to bring you modules and instruments that will set your modular system apart from mass in terms of how it sounds, looks and functions.
​
Jeff Touzeau Public Relations, Hummingbird Media, Inc.

​